TUV SUD CERTIFIED ELEVATORS
Externally attractive, panoramic lifts to help passengers not only comfortable to move between floors, but also allow to get aesthetic pleasure from the contemplation of the outside of the building space, thereby increasing ridership and encouraging people to shop, which is especially important for shopping centers. For people with a fear of confined spaces are no problems with the rise in panoramic lift.
360° Views With Panoramic Elevators
One of the most prestigious types of elevators products is panoramic elevators. They can be located in shopping and business centers, hotels, restaurants, and homes. Panoramic elevator – an essential element to the architectural design of the building. These lifts are installed in order to revive the architectural ensemble and make it more stylish and attractive for visual perception.
Teknic's sightseeing elevator adheres to the design principle of innovativeness and fashion. To meet various demands of hotels and supermarkets, our company provides different elevator designs according to their building styles. Delicate style designs provide passengers with different scenic perspectives and broad scenic views.
06 / 08 / 10 / 12 Passengers
Automatic Doors, Manual Collapsible Doors
The noise-free drive system, Eco-friendly drive technology, Saves energy
Note: This is our standard data If other special requirements, Please contact us.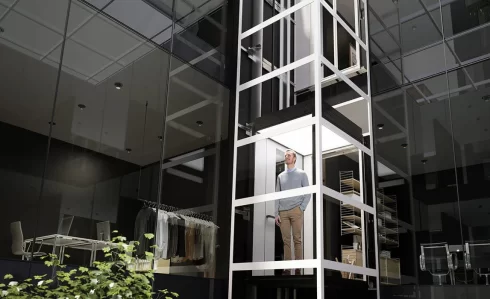 Your resource for planning-relevant information and brochures of  Elevators | Lifts, Escalators, Moving Walks & Car Parking Systems.